Larry Cope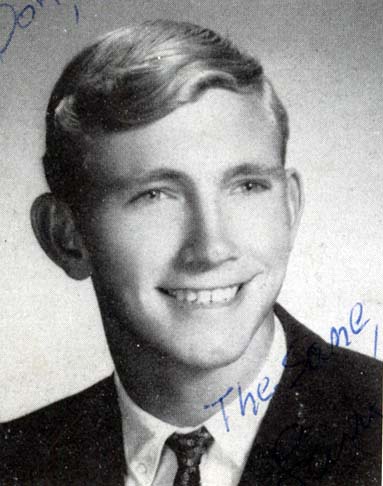 1964
Yearbook
&nbsp
1 photo(s) posted.


Status:
Unconfirmed 2004
Private Profile:
No
No Profile Created
Spouse/Partner:
Carol (deceased)
Resides:
FL
---
Biographies:
2004
Grossmont JC. U.S. Army---Ft.Ord-CA/Ft. Lee-VA/Korat-Thailand/Ft. Bragg-NC/Ft. Riley-KS/Ft Benning-GA-------4 years total.
Married Dec 13, 1969 to Carol Linda Vilardi of Cliffside Park, New Jersey where we lived until 1972.Moved to Ridgewood, NJ for 6 months then on to Bayville, NJ where we bought our first home and lived until June 1979. Carol was the Laboratory Manager at Manahawkin Community Hospital and I worked at a television and appliance sales and service business. Our daughter, Valerie Lynda Cope was born July 21, 1974.
After the gas "shortage" and increases in electricity rates in the mid 70's we moved to the island of Sanibel, Florida in June 1979. We had a new home built which we moved into in Mar '82.
Carol, ever the fitness and health guru, began running. And winning! I operated Larry's Island TV from 1981 until 1995 and Carol was the Lab Manager at Cape Coral Hospital. One weekend day was usually set aside for a 5K or 10K road race which Carol and Valerie often won in their class.(I have a room full of trophys to prove it!LOL)In 1990 Carol and Valerie were both fortunate in qualifying for the "Seven Mile Bride Run" on Marathon in the Florida Keys. Limited to 1500 runners it is, because of it's location, one of the most sought after qualifying runs in Florida. Carol and Valerie both won 1st place in their age categories! What a high!
In 1987, after the death of her mother, Rose, Carol returned to college and obtaine her Master's Gegree in Healthcare Administration. After graduating from Cypress Lake High School in 1992 Valerie "went away" (120 miles), on full scholarship, to The University of Tampa---her mother's alma mater! In the fall of 1994 she transferred to College Of The Atlantic in Bar Harbor, Maine!
After a downsizing at the hospital in 1994 Carol's job was eliminated. She soon obtained a position at another hospital but it was a long commute. In April 1995 Carol was offered the opportunity to become the Lab Manager at Martha's Vineyard Hopital, on Martha's Vineyard, MA. After seperate visits to look over the situation and after we talked it over we decided to go. Valerie was in Maine, we missed her very much and we loved New England. so, in October '95 we (Moving van towing a car on a trailer and another van filled to the brim, 7 cats and 1 dog) moved again.
We kept our home on Sanibel as a hedge against poor judgement!LOL . The house we had rented on MV until the end of May '96 for $1000.00 p/mo was scheduled to go up to $4400.00 PER WEEK on June 1st 1996. The outlook for an affordable rental was not promising and the hospital's finances were precarious, so on May 26, 1996 we moved back to Sanibel. What a summer that was---May 26-May 30 move from MV to Sanibel. June 10th rent a car and drive back to Maine(stopping in NJ to pick up Carol's cousin) for Valerie's college graduation. After graduation drive from Maine to Santee, CA (by way of NJ to drop off the cousin)for my parents 50th wedding anniversary! Then drive back to Sanibel!
In 1996 I reopened my business and Carol worked as a consultant and Lab Manager at a private lab. Valerie went on to graduate school at Sarah Lawrence College in Bronxville, NY where she obtained her MFA. After graduation Valerie took a job at a publisher in New York City where she was a copy editor. She lived in Brooklyn. She later moved into our home on Sanibel when Carol and I moved--again!
In December 1999 I closed my business and we moved to Big Pine Key, FL where we had both taken jobs at the hospital in Key West--Carol as the Lab Manager and I as the biomedical equipment technician. Carol was diagnosed with ovarian cancer on July 4th 2000 and had major surgery that month. She was back at work by August 15th and began chemotherapy. She tolerated the chemo well-thank goodness. The opportunity came to move back to our home on Sanibel in December of 2001 when the company we worked for acquired a local hospital where Carol and I both took jobs. Valerie moved to Ft Myers where she and her boyfriend bought a 1926 spanish style home in June of 2001. Despite surgery and continous chemotherapy, Carol died in our arms on February 13, 2003. It has been the longest year!
I still work as a biomedical equipment technician at the hospital and am currently involved in major repairs and remodeling of the house. We have always been camper's(Tent) and I still enjoy traveling and enjoying all the beauty of our earth. Valerie works as the "Marketing Communications Manager" for a major South Florida Developer. She has been and continues to be a joy to be with. Don't know if I will make it to the reunion, but am glad you found me and will try my best to make it. If anyone remembers me I'd sure be glad to hear from you! Best Regards to all.
1 Bio(s) posted.
---
<!- include9.inc.php -->

<!- end div id=main from include1.inc.php -->