Arlette Coleman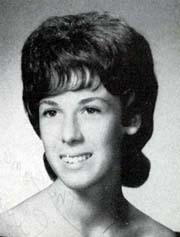 1964
Yearbook
&nbsp
1 photo(s) posted.


Status:
Deceased 2004-04-01
Private Profile:
No
No Profile Created
Tributes:
Tribute submitted by Bart Coleman, 2004-10-01
My name is Bart Coleman, brother to Arlette Coleman. Unfortunatly my sister will not be attending the reunion in October. We lost Arlette to cancer in April of 2004. Arlette had been fighting cancer for many years,
I'm sure that she would have loved to been there and "whooped it up" with all of her old friends. If anyone wishes to extend their condolances, please have them give a donation to cancer research. I'm sure that the reunion will be a real "barnburner" knowing the few other members of the class!!
Best Regards
Bart Coleman
"Go Vaqueros"
&nbsp
1 Tributes(s) posted.
---
---
<!- include9.inc.php -->

<!- end div id=main from include1.inc.php -->