Roy Burt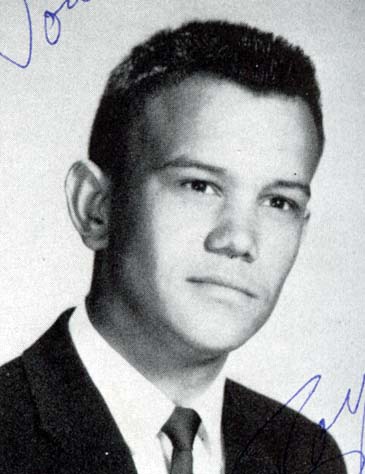 1964
Yearbook
&nbsp
1 photo(s) posted.


Status:
Unconfirmed 2010
Private Profile:
No
No Profile Created
Spouse/Partner:
Bernie
Resides:
SD
| | |
| --- | --- |
| 2014 Bio: | Married to Bernie, 2 children – Jeremy, married with 1 daughter and Jennifer, to be married 7/12/14. Retired pathologist |
---
Biographies:
2004
'64-67 Grossmont junior college, San Diego State, San Diego city junior college.
'67-'71 USAF
'71-'79 University of North Dakota-- B.S. and M.D. degrees
'79-'83 Residency training in anatomic and clinical pathology, Martinez,CA.
'83-present --- Pathologist in Aberdeen South Dakota.
PERSONAL--- Married Burnette Kay Huus Feb. 7,1970. Two children--- Jeremy , born August 25th, 1977 and Jennifer, Born May 30th, 1979.
I was born with a TEF. To us pathologists that's a tracheo-esophageal-fistula-- type I. That's a connection between the trachea and esophagus formed in utero. When they gave me my first bottle the milk went down my esophagus over into my trachea and into my lungs. I turned blue and quit breathing. The incidence of this disorder is one in every 2000-4000 live births. The nurse in my nursery by extreme coincidence had a prior experience with a baby with TEF- that baby died. When she saw me turn blue-- i was later told--- she picked me up by the heels and the milk flowed out of me. She whacked me on the ass and bingo there i was again--- but very sick. On about May 18th 1946 a team of doctors at childrens hospital in Boston Mass. performed the very first repair of a TEF---EVER .They later wrote it up in the surgical journals.My parents were told i would probably die before i was 10 years old so don't get too attached. I had 10 episodes of pneumonia. On one of those occasions the doctor at Valley Forge army hospital in Pennsylvania--- a Major Monarch ( not the butterfly--- his name) told my parents to go home -- that this was it. They would be called when to come back to pick up the body. I was three and a half years old. So they gave me to a nurse and left. 8 months later they were called to come and get me--- the little bastard was still alive. I was home for one day and the pneumonia returned (actually it never left). I was returned 70 miles to the hospital in Valley Forge for another four months.
My last episode of pneumonia was at about the age of 8 yrs. I spent most of my first four years of life in a bed.
When my father left the army he returned to the navy where he had started out at the age of 17. In 12 years of school i attended 13 schools. Every one was because the Navy transferred my dad from one base to another. His family was completely irrelevant to the navy.My First report card from Granby high school in Norfolk Virginia was unforgettable--- 3 F's and 2 D's. My first high school physical fitness test was easy to remember--- ZERO. Number of sit-ups--- zero. Number of push ups-- zero. Number of pull ups--- zero.I was referred to as the runt.
In December of 1961 my father was transferred to San Diego naval training center in San Diego Ca. We moved into Lakeside and i finished my freshman year at El Capitan High and went on to my sophomore, junior, and senior years. In the spring of 1962 my father brought me into the school nurse--- furious that i had been put into physical education classes with "normal" boys.That's when they put me into ADAPTIVE P.E. . I met Ron Vavra. I was started on a weight training regimen with Ron's shot putters.They were quite good. More than that--- They were tolerant, respectful, and patient. These guys were benching 175-250 lbs. In comes this runt. They tested me on the first day. That too is easy to remember. The bar was hollow. With sleeves and collarettes it weighed 25lbs. THAT WAS ALL I COULD BENCH PRESS.For two solid years i worked out every monday, wednesday, and friday--- NEVER missed a day.In the summer of my Junior to senior year i took the summer off. At that time i was benching about 155lbs. , three sets of 5. In my senior year i benched 175 for the first time. In my second year of college--- 245lbs. 5 times.
In adult life i had episodes of depression. In my first year of medical school i mentally collapsed and withdrew. My wife's family wanted her to leave me but she stayed.I came back--- with difficulty. It took me 7 years to complete 4 years of medical school, but i did. Without Bernie i don't think i would have made it.
I've been practicing pathology for going on 21 years. I have the respect of my colleagues. That means a lot.
Now you know something about Roy Burt--- your old classmate. Why have i told you all this shit? If i tell you that tenacity and loyalty are for me very important--- maybe you'll "see" why. My favorite movie of all time is Band Of Brothers about Easy company of the 101St Airborne divisiion. Why? Because those men who are still alive today---including Major Winters --- their C.O. will tell you that they would rather die than let their buddies down.
Now for the most improtant part. Do i feel sorry for Roy--- not a bit. I'm grateful as hell. I've been married for going on 34 years to a woman who taught me the meaning of patience, love, maturity, joy, and lots more. Every single day i look forward to coming home to her. Being with her is fun. What we do doesn't matter.
Well that's it. I'm goofy as hell--- but i know it. My life has come full circle. There's more i could say--- About Syd Banks and how i found God. But that's anothe chapter. Someone once asked me how life was treating me--- my response--- life doesn't treat me in any way--- I AM LIFE.
1 Bio(s) posted.
---
<!- include9.inc.php -->

<!- end div id=main from include1.inc.php -->