Gail Ahlwardt Shea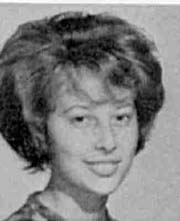 1964
Yearbook
&nbsp
1 photo(s) posted.


Status:
Deceased 1988
Private Profile:
No
No Profile Created
Tributes:
Tribute submitted by Ruth , 2013-12-04
Gail was a delightful person. Loved to dance and express joy. She had such a good sense of humor and was so fun to be with. Was proud to call her my friend.
&nbsp
Tribute submitted by Bea , 2015-03-06
I didn\'t go to El Capitan High School but attended Santee School with
Gail from the first day of first grade through seventh and she was my
best friend. Not only was I new to the school, I was new to the
country, a lost little girl from the Netherlands,but she took my hand
and we were best friends from then on. She was always looked up to
throughout grade school as fair, wise, honest, kind, giving, loving,
and sweet. After I changed schools, her parents discouraged our
continued friendship which broke our hearts, but in the age before
cell phones, internet, etc. what were two 13 year old girls who lived
miles apart going to do? She moved far away, as did I, but she has
always been in my heart.
&nbsp
2 Tributes(s) posted.
---
---
<!- include9.inc.php -->

<!- end div id=main from include1.inc.php -->