Nancy Beckwith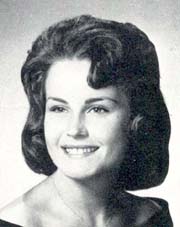 1964
Yearbook
&nbsp
1 photo(s) posted.


Status:
Deceased
Private Profile:
No
No Profile Created
Tributes:
Tribute submitted by Barbara Wright Bates , 2014-09-17
I met Nancy in second grade at Chollas View Elementary in San Diego. We lived several blocks away from each other, but we walked part of the way home together everyday. I have a fond memory of \"mud skating\" It was a rainy day but we had raincoats and red rubber boots. Our path included about three blocks of off road terrain which on this particular day had top layer of slippery gushy mud . We would run a few steps then slide. What fun! Our boots were a mess, but we never fell and we loved \"skating.\" I think Nancy moved away the next year. I remember her as a friendly, kind and fun loving little girl who enjoyed singing. My family returned to California in 1962 and one of the first people I met at El Cap was Nancy. We didn\'t have any classes together and sadly didn\'t reconnect for more \"mud\" fun. Happy Trails to you Nancy.
&nbsp
1 Tributes(s) posted.
---
---
<!- include9.inc.php -->

<!- end div id=main from include1.inc.php -->