Dorothy Gruner Howell
1964
Yearbook
&nbsp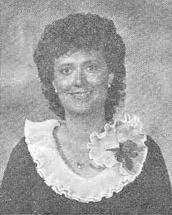 1984
1984 Reunion
&nbsp
5 photo(s) posted.


Status:
Confirmed 2014-07-28
Email Addr:
No
Private Profile:
No
No Profile Created
Resides:
CA
---
Biographies:
2004
WOW! 40 years is a long time. I do not feel any different than I did forty years ago until I look into the mirror and wonder how many more years I can go on trying to defy the laws of gravity. Do you realize how many changes have taken place since we were in high school? Remote used to mean a secluded spot off the beaten path and cable was something that supported a bridge. A videro game was trying to make out the fuzzy, snowy images on the TV screen. A cell phone was what you used to make your one phone call from jail. A calculator was your accountant. An airbag was some guy who talked too much. Digital computing was counting on your fingers. High speed access was an on-ramp to the freeway. And, surfing was something done on a board in the ocean. Not to mention wars, police actions, cold wars and the fall of the Berlin Wall and more recently the Twin Towers. Enough of this waxing nostalgic. If you are reading this letter I am sure you want to know what I have been doing for the last forty years besides trying to defy the law of gravity.
After leaving high School like most of you I went to college but, that was interrupted when I married Robert Howell and moved to Coronado. Robert worked for the Civil Service at North Island and we owned and operated a jewelry store near the Hotel Del. Our son, Neil, was born in Coronado in 1970. Two years after his birth we decided to move to the country. We bought a home in Alpine and moved. In 1973 I had a miscarriage that proved to be the straw that broke the camels back in our marriage. It was all downhill until our divorce was final in 1978. I moved back to Lakeside with my son and like the Phoenix rising out of the ashes I began again. Besides being a mom I went back to college and worked part time then full time at numerous jobs. I have been a Notetaker/Interpreter/Instructor for the deaf in college, a delivery driver for a dental lab, and a general office worker/data control supervisor/ business office coordinator for different medical groups. When my son graduated from El Capitan in 1988 and went off to college I embarked on a whole new career with the California Department of Corrections as a correctional officer. Work brought me to the other end of the state in 1989 and a whole different way of life. I live in Fort Dick, in the redwoods, sixteen miles from the Oregon border on Highway 101. I work at Pelican Bay State Prison in Crescent City. I am a floor officer in a lock down unit call the Security Housing Unit (SH).
When I am not working I fish, hike, raft, antique hunt and travel. My last trip was with my son. We spent a month last January in Peru. What a trip. Had to come home to rest.
Well, that's the the condensed version of forty years of my life in a nutshell.
I was not sure I would be able to attend the school reunion because we have to apply for time off a year in advance, but, as luck has it, I was able to procure the time needed in the last hour. I hope everything has gone well for each and everyone of you in the last forty years. I am looking forward to seeing everyone at the school reunion. Take care, see you soon.
1 Bio(s) posted.
---
<!- include9.inc.php -->

<!- end div id=main from include1.inc.php -->