Robert Eaton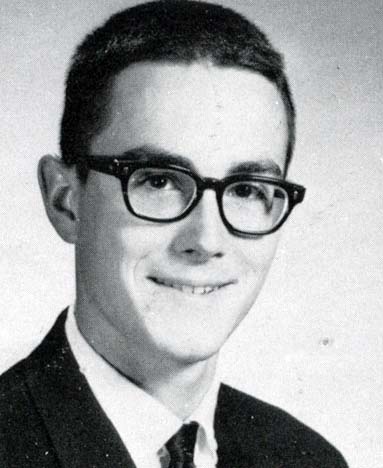 1964
Yearbook
&nbsp
4 photo(s) posted.


Status:
Confirmed 2014-08-27
Email Addr:
Yes
Private Profile:
No
Profile Updated:
2014-08-27
Marital Status:
Married &nbsp
Spouse/Partner:
Katie
Resides:
NM
Birthday:
1946 &nbsp&nbsp
| | |
| --- | --- |
| Occupation(s): | Assistant Research Neuroscientist, Sch. of Medicine & Neurobiology Unit, Scripps Institution of Oceanography, University of California, San Diego (1974 - 1978); Professor, University of Colorado at Boulder (1978 - 2003); Visiting Scholar, University of California, San Diego (1988); Adviser to Integrative, Functional & Cognitive Neuroscience, National Institutes of Health (1998 - 2002); Current - Professor Emeritus, Center for Neuroscience, University of Colorado. |
| | |
| --- | --- |
| Family: | Katie (wife); Christopher (son) |
| | |
| --- | --- |
| Hobbies: | My interests include woodworking, recreational house building, and the interface between science and the public. |
| | |
| --- | --- |
| Bucket List: | After living in Boulder for 35 years, we now hope to survive a home construction project in Santa Fe. [Anyone have any tips?] Next, living a long life. Given that, I'd like to continue my academic thoughts. |
| | |
| --- | --- |
| 2014 Bio: | Thanks to everyone involved in the planning of not only this upcoming reunion, but the ones in the past. That is a very selfless contribution. Due to a variety of reasons we won't be attending this next one. Best regards to all. |
---
Biographies:
2004
I live with my wonderful wife Katie in Boulder, Colorado. Until recently, both Katie and I had positions at the University of Colorado. I was a professor, and she did financial administration of federal research grants.
As for many of us, the time after high school was very difficult against the backdrop of the war and social change. Somehow I didn't 'check out' but became focused on my college coursework and entered academics in the then-new field of neuroscience. I survived graduate school, and along the way became married, had a son, Christopher, and supported my family on scholarships.
Fortunately, I had inspired mentors and, as a newly-minted Ph.D. in the early-70s, I received a fellowship to study at Scripps Institution of Oceanography in a neuroscience unit that was part of the UCSD School of Medicine. That led to further research in Paris, France. About that time I went through a divorce, but I finally emerged from the mid-70s with a potential career and an optimistic outlook.
In 1977, I took a permanent position at the University of Colorado, in Boulder. This would be my academic home for the next 25 years. Boulder was an exciting place. In the early years, though, it was difficult doing the teaching, the research, getting tenure, and raising my son as a single parent. I did the dating scene for quite a few years, before meeting Katie in the mid-80s.
My science was in the areas of neurophysiology and biophysics. It concerned the ways that networks of nerve cells in the brain produce perceptions of the mind and movements of the body. This involved research and consulting for several federal agencies – NIH, NSF and ONR – and led to my giving lectures at many scientific venues in the US, Europe, and Japan. Ultimately, my studies concerned how the brain 'computes' a classical logical process (XNOR) that I first learned in Ed Nobel's high school math class. As a professor I also taught everything from huge undergraduate classes of 300 students, or more, to mentoring individual graduate students in my laboratory. I eventually became the Chairman of my department. But, in many ways the teaching was the most satisfying of all.
This may seem like a straight line from beginning to present, but I have had my share of ups, downs, and detours. All in all, though, I believe that many values I learned in high school (from teachers, classmates and friends) played an important role in my life as a scientist and educator. I am fortunate to have had supporting family, and to end up in a fulfilling profession where I could make a contribution, while still having some time to enjoy life.
For the future, Katie and I want to build a new home on land we recently bought in Sedona, Arizona. We'll continue to pursue our creative interests – in Katie's case, teaching movement, dance and yoga – and in my case doing photography, writing, and tinkering/inventing in my shop. We've already re-built a few houses (we call it "recreational home rebuilding") and we like the desert southwest. Also, Sedona is only one day's drive to San Diego where we go to see relatives and friends, and to vacation at the beach (I'm still fond of body surfing).
That's our hope. However, our Sedona move is on hold because we've recently become legal guardians of a disabled uncle who lives in a care facility near us, and who would be hard to relocate. So goes life.
1 Bio(s) posted.
---
<!- include9.inc.php -->

<!- end div id=main from include1.inc.php -->