Lou 'Louie' De Does Bowling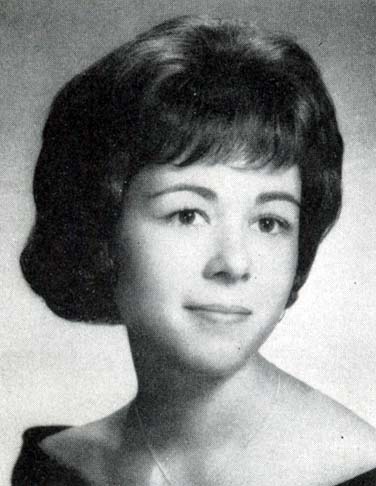 1964
Yearbook
&nbsp
1 photo(s) posted.


Status:
Confirmed 2013-08-28
Email Addr:
Yes
Private Profile:
No
Profile Updated:
2013-08-28
Marital Status:
Married &nbsp
Spouse/Partner:
Ray
Resides:
CA
Nickname:
Louie &nbsp&nbsp
Birthday:
4/46 &nbsp&nbsp
| | |
| --- | --- |
| Education: | Graduated El Capitan, business college, art school. |
| | |
| --- | --- |
| Occupation(s): | Cashier in service department for car dealership and P.B.X operator. Mostly mom of four very intelligent children...... |
| | |
| --- | --- |
| Family: | Husband of 49 years, Ray. Four children; Scott 37, Eric deceased, Kris 34, and Marcus 29. |
Hobbies:
Haven't had time for many but am getting back to the art I once did and also to the family genealogy that started in 1966. Also am quite fond of
driving my 50th. Anniversary Thunderbird. Oh, also there is two acres of garden that I dabble at also....
| | |
| --- | --- |
| Pets: | Two standard poodles that run this operation, two parrots who also think they runs this place and two cats...ah ya...they also think they run this place....the cat smacked the dogs and the parrot bit both the dogs and the cats, so guess the parrots rule..... |
| | |
| --- | --- |
| Bucket List: | I don't have a bucket list....have seen too much of the "bucket" having done four hospice stints for people I dearly loved....so have seen the "bucket" up close and personal and really would rather just live day to day with what I love...my husband, animals, and home. |
Bucket List
(completed items):
My list will be done when I "kick that bucket" with honor and dignity.
2014 Bio:
My story is rather short and sweet...my husband and my children. I am married to my very own "Dirty Harry". He was with the San Diego Police
Dept. for 25 years and a detective most of that time working Homicide, Robbery, Vice, Training and Criminal Intelligence. He was sent to the
F.B.I academy and trained in the world of organized crime. I am his support staff. After retiring, he spent another 17 years teaching at Miramar College. While he did all of this, I raised our four children.
For those of you that have raised a lot of children, I don't have to say much...for those of you that have not...it is a hell of a lot of work. They all graduated with honors from college...three S.D.S.U and one U.C.S.D. They never did drugs or got into trouble. They are all good people with good jobs. I consider them my greatest accomplishment, my life and my story.......
---
---
<!- include9.inc.php -->

<!- end div id=main from include1.inc.php -->